Category Archives:
Events
JOHANNESBURG, OCTOBER 23, 2015 – Volkswagen South Africa (VWSA) wins the SAVRALA MOTY (Manufacturer Of The Year) award for the sixth consecutive year.
Celebrating its 20th year, the SAVRALA 2015 Manufacturer of the Year was revealed during a gala award ceremony at the Hilton Hotel in Sandton tonight, 23 October. Incredibly, for six consecutive years, Volkswagen South Africa (VW) took the accolade of overall car rental winner yet again.
Commenting on this achievement, SAVRALA President Marc Corcoran applauded VWSA's remarkable achievement and said that one had no choice but to respect the consistent and recognised high levels of service given by VWSA to the car rental industry. "An important insight from this year's data is the improved scores by almost all automotive brands, demonstrating the competitive nature of the industry," he added.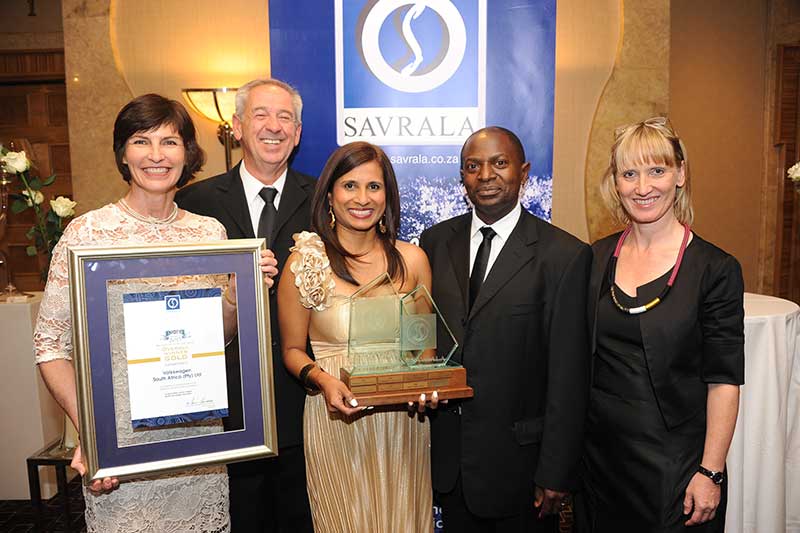 The MOTY 2015 results further reveal that VWSA has gained a distinct advantage over its peers in the key survey category of Communication and Support.
The competitive nature of this year's MOTY awards was best demonstrated by the 0.1 difference in score between Audi SA and Toyota South Africa Motors which swopped podium places, with Audi taking home silver this year.
Illustrating the extent of how some automotive companies have focused special attention on their car rental customers, the Most Improved Award went to BMW SA which leaped from 11th place last year to 7th this year achieving a phenomenal 17% increase in their 2015 score.
Addressing concerns by some automotive brands that they are at a disadvantage when competing against their larger-volume peers in the car rental industry, a new award called Tutuka was created and won by Audi SA. "The performance of Audi this year clearly demonstrates that winning MOTY is not merely a function of the volumes sold to the car rental industry, but also of satisfying customer needs," said SAVRALA GM Sandile Ntseoane.
The Value Award in its first year was a tight contest, but was won by Ford SA which, by the narrowest of margins, beat VWSA. Commenting further Marc said this ''was an important award as the cost of vehicle ownership is a key consideration for any fleet purchase, whether a corporate fleet or individual purchaser.''
MOTY 2015 also acknowledged the role of certain individuals the car rental industry:
Best Account Executive was won by David Maeko (Ford SA)
Best Manufacturer's Technical Representative was won by Bennita Senyatsi (Nissan SA)
The MOTY evening also saw industry stakeholders recognise the remarkable service given by Dawn Jones, Imperial Car Rental CEO, who leaves the industry next month after 35 years.
"Dawn leaves behind an incredible legacy that few could even imagine achieving. Ever the shrewd car rental operator, Dawn had a remarkable, innate skill in developing warm relationships with her colleagues, customers and competitors. The industry thanks her for contribution and wishes her well in her future endeavours," concluded Marc.
AWARD SUMMARY MOTY OVERALL
Overall Bronze
Toyota South Africa Motors
Overall Silver
Audi South Africa
Overall Gold
Volkswagen South Africa
Best Account Executive
David Maeko (Ford SA)
Best Manufacturer's Technical Representative
Bennita Senyatsi Nissan (SA)
Most Improved
BMW SA Group
Value Award (Certificate)
Ford (SA)
Tutuka Award
Audi South Africa
On social media, join the conversation using the hashtag #MOTY2015.
About SAVRALA
SAVRALA is the trade body for companies engaged in the rental of passenger cars and commercial vehicles. Founded in the 1970s, SAVRALA represents South Africa's the car rental rental industry
We lobby government to ensure that regulation and legislation affecting its members is fair. SAVRALA also works with public sector agencies, industry associations and key business influencers on key road transport, taxation and finance-related issues.
For more information about SAVRALA, please visit www.savrala.co.za or contact Natalia Rosa at natalia@bigambitions.co.za or 083 449 4334.
The SAVRALA Annual Charity golf day enjoyed excellent weather at the Johannesburg Country Club on the 25th of February 2015 and unlike the previous year where rain soaked the players and the game had to be cut short, this year's event almost broke all previous records. More than 80 golfers, playing in teams of four, competed in perfect conditions on a course in excellent condition. 80 golfers sat down to an excellent meal with Michael Scholz keeping order as master of ceremonies. The raffle and auction were very well supported and more than R72,000 was raised for the chosen charity.
The SAVRALA President, Marc Corcoran, thanked the members for their continued support of this worthy cause, he thanked the club for giving the event the courtesy of the course. Many of those participating had been involved with the event over many years and its continued success was due to their unwavering support. He thanked all the sponsors once again for their generous giving which resulted in a day of fun and fellowship. The chosen charity organisation that will benefit is The QuadPara Association of South Africa. QASA's function is to serve quadriplegics, paraplegics and the disability sector in general, in whatever capacity its members find most constructive. The organisation aims to assist people with mobility impairments to lead independent lives with a decent standard of living, in areas ranging from personal care and assistive devices to adequate skills development and employment.
Ari Seirlis, the CEO of QuadPara Association of South Africa (QASA) gave a heartwarming speech on his organisation and thanked SAVRALA for choosing QASA. Marc Corcoran gave feedback on the Leasing Section and advised members of the imminent changes that will take place within SAVRALA. He spoke briefly about the continued collaboration with the automotive sector on legislative issues affecting the industry.
SAVRALA thanks all those involved and looks forward to continued participation and support.
The following companies took part in the SAVRALA Charity Golf Day:
Toyota South Africa Motors (Pty) Ltd
General Motors South Africa
Volkswagen South Africa (Pty) Ltd
Bidvest Car Rental t/a Budget
Avis Rent A Car (Pty) Ltd
ABSA Vehicle Management Solutions
Datadot Technology SA (Pty) LTD
Mitsubishi Motors South Africa
Hyundai Automotive South Africa (Pty) Ltd
Nissan South Africa (Pty) Ltd
Liquid Capital (Pty) Ltd
Audi South Africa
FleetAfrica, A Division of Super Group Africa Pty Ltd
Infiniti SA (a division of Nissan SA)
Kia Motors South Africa (Pty) Ltd
Europcar and Tempest Car Hire
Top Notch Car Rental CC
Accordian / TATA
Hole Sponsors:
Toyota South Africa Motors (Pty) Ltd
Volkswagen South Africa (Pty) Ltd
Bidvest Car Rental t/a Budget
Nissan South Africa (Pty) Ltd
Hyundai Automotive South Africa (Pty) Ltd
Mercedes-Benz South Africa
Infiniti SA (a division of Nissan SA)
Audi South Africa
Additional Sponsors:
Fleet Africa
Hertz Car Rental
Tempest Car Rental
Europcar
Avis
By Sandile Ntseoane