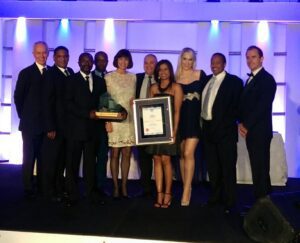 Volkswagen South Africa (VWSA) has won the SAVRALA MOTY (Manufacturer Of The Year) award for seventh consecutive year, an award which recognises superlative levels of service, new standards in technology and safety, and continuous improvements in delivery standards by vehicle manufacturers as rated by their customers – the car rental sector.
This vehicle manufacturer also walked away with several key awards at the 21st edition of the MOTY awards held in Johannesburg on October 21, including the Value Award and Best Manufacturer's Technical Representative.
Lauding the achievement, SAVRALA President Marc Corcoran said: "It is a remarkable achievement and testimony to the VW SA team that they have continued to defend their MOTY leadership for a seventh time. They are true brand custodians and should take great pride at the fact that the car rental industry has recognised and duly rewarded their efforts."
VWSA enjoyed a comfortable three-point lead between them and second place, which was achieved by Hyundai.
Illustrating the extent to which some automotive companies have focused on their car rental customers and put action plans in place to improve their previous MOTY scores, the Most Improved award also went to Hyundai who moved from 6th to 2nd this year.
For the second year in a row, the Tutuka award was won by Audi SA demonstrating a commitment to satisfying customer needs in the lower volume and niche category, which is agnostic of the large volumes sold to the car rental sector.
VWSA continued their dominance and were further recognised in the critical Value Award category.
Acknowledging the role of certain individuals within the car rental industry, the following awards were made:
Best Account Executive was won by the Loshini Pillay (Volkswagen)
Best Manufacturer's Technical Representative was won by Robert Wright (Volkswagen)
AWARD SUMMARY
MOTY OVERALL
Overall Bronze
Toyota South Africa Motors
Overall Silver
Overall Gold
Best Account Executive
Loshini Pillay (Volkswagen)
Best Manufacturer's Technical Representative
Robert Wright (Volkswagen)
Most Improved
Value Award (Certificate)
Tutuka Award
While any company will always appreciate being rewarded by its customers, MOTY 2016 has again challenged the OEMs, on an objective customer review basis, to compete and try best satisfy their customer (i.e.: car rental) requirements. The MOTY competition offers a unique insight to the expectations of OEMs from SAVRALA car rental members.
Corcoran concludes: "Given the massive cost of fleet for car rentals companies, a lot of thought is given to their vehicle purchasing decisions. As a consequence, individuals, who may be considering a vehicle purchase should consider those brands that SAVRALA has critically assessed and duly rewarded.''
Check out the evening's coverage on #SAMOTY16